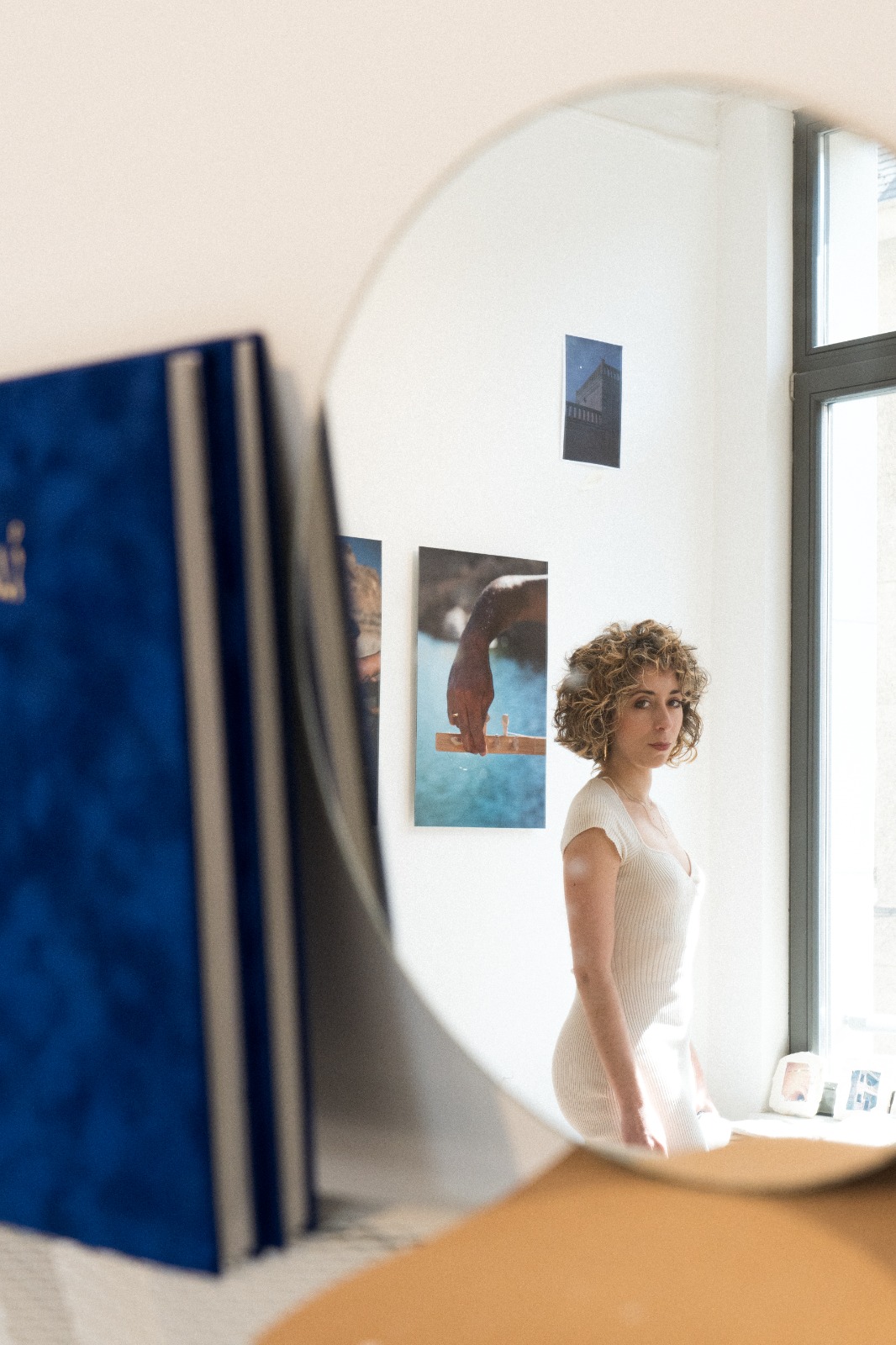 © Julie Pollet
Romane Iskaria is a French photographer and visual artist.
Born in La Ciotat, south of France in 1997.
Works and lives in Brussels (BE).

Romane's studio is based in the Grand Hospice, possibility of visit on request.

E. info@romaneiskaria.com
T. +330622129558
Instagram
︎ STUDIO ISKARIA ︎ available for commissions
BIO
Romane Iskaria approach is both documentary and fictional. She works on long-term investigations, in order to raise the voices of forgotten people and tell their stories. Romane uses photography, video, sound and sculpture to create immersive installations. In her practice, the artist addresses questions around migration, exile, stateless communities and even borders. In her video installation Jaré, Romane reactivates a pleasant memory for a family in Syria, that of sleeping on the roofs on very hot nights. Thanks to an installation combining videos and fabrics, Romane pushes her thoughts around an initiatory journey evoking the memory of the Assyrian diaspora.
Her work has been exhibited in the United States (ART-ARK gallery San José California, Assyrian Policy Institute Washington D.C), in France (Festival Circulation(s) Cent-Quatre Paris, La Grande Vitrine gallery Arles, HLM Marseille gallery), in Belgium (TAMAT Museum Tournai, BPS22, Art-Brussels Off, S.M.A.K, Médiatine Prize, Hangar Art Photo Center, TICK-TACK gallery), in Armenia (Consulate of France Erevan), in Italy (L'Asilo Napoli) and in Netherlands (Noorthedlicht Festival). Romane was selected for the Polka Magazine & Kickstarter call for projects for the creation and support of an artist's book for her first book "Assyrians" with a self-publishing run of 300 copies. The book Assyrians was also laureat of the Belgian Photo Books selection presented at the Rencontres d'Arles in France in July 2022.
︎ Portfolio view & download ︎
ARTISTIC RESIDENCY
2024 Arapuca Arte e Cultura, Condé Paraiba Nord-Este BRASIL
2022 - 2023 Foundation Carrefour des Arts : 9 month research and artistic creation residency Brussels BE
EXHIBITIONS
Solo show

2023-2024 TAMAT Tournai (Museum of Tapestry and Textile Arts of the Wallonia-Brussels Federation), Mediatine Prize 2023, Tournai BE
2022 Festival Circulation(s) OFF, Outside the walls in front of the French Embassy, Erevan, Armenia
2019 Santa Rita, Brésil, Mini Mécénat : Le Trait d'Union, Marseille FR
Group show

2023 NICC 25, S.M.A.K, Gand, december BE
2023 BEYOND, Fondation Carrefour des Arts, End of the residency, Brussels BE
2023 AKITU, Gallery ART-ARK, Diaspora In Bloom, San José USA
2023 Art Au Centre, 2023, Liège BE
2023 Prix Médiatine : 40 years, Wolubilis Center, Brussels BE
2022 FRICTION(S), BPS22 Museum, Charleroi BE
2022 Assyrian Film in diaspora, Assyrian Policy Institute, Pop-Up with Diaspora in Bloom, Washington D.C USA
2022 Un grand amour suffit, ART-BRUSSELS OFF, Gallery FACE-B Brussels BE
2022 Circulation(s) Festival, Artist Selection CENT-QUATRE, 2022, Paris FR
2022 Tell Me Louder, HISK Brussels BE
2022 Gallery La Grande Vitrine, Arles FR
2021 Traces Migratoire, Asmae association, TriPostal, Brussels BE
2021 Noordelisht Internationaal Fotofestival : The Makeable Mind, Groningen NE
2021 Hangar Art Photo Center : S'exposer, Brussels BE
2021 Gallery TICK-TACK : Third Place Or What?, Anvers BE
2020 L'Asilo, Popolare, Naples IT
2019 Gallery HLM Photography Center : AT-WORK, Marseille FR
AWARDS / GRANTS
Grant SOFAM (Multimedia Society of Visual Arts Authors Belgium) 2023
Production assistance, Wallonia-Brussels Federation (laureate) 2023

Médiatine Prize Laureate. Mention by TAMAT Tournai (Museum of textile arts and tapestry) 2023
Belgium Photobook Award 2022
Polka Magazine & Kickstarter call for projects : creation and support of an artist's, Assyrians book laureat, 2021

Fondation Roi Baudouin Grant, 2021
Mentor Prize Freelens, finaliste Paris 2021
Poznan Art Prize 2nde prize 2020
Student Grant Photography CROUS PACA 2018
BOOK

2022 Assyrians, self published, 300 copies, design and conception MacaroniBook.

PRESS PUBLICATIONS
2024: Origines review n1 by MacaroniBook BE
2023: SOFAM review n4 BE
2023: Based Istanbul, interview Unframed Meeting with Ancestors: Romane Iskaria Istanbul TURKEY
2023: 5 Rue du, Assyrians by Frederic Martin FR
2022: 9 lives magazine, Assyrians, mémoire d'un génocide FR
2022: L'intervalle Blog, Assyrie le chant de l'exil, by Fabien Ribery FR
2022: Ectomie Patriarcale, Xeno Exhibitions Brussels BE
2021: Polka Magazine - Editez votre premier livre photo ! Les lauréats de l'appel à projets Kickstarter x Polka FR
2020: Fisheye le mag Coup de coeur pour Sceneggiatta FR
2020: La Zone Utopies-Distopies série 9m2 Marseille FR
RADIOS

2023: Radio BX1 : Interview Le Brunch Romane Iskaria with Marion Maréchal : Les artistes de chez nous BE
2021: Assyria TV : Interview with Fédération Assyrienne de France FR

PROFESSIONAL EXPERIENCES

2023-2024: collaborative project and animation workshop with a group of exiled womens with the EXIL Center (Mental Health center, specialized in the rehabilitation of refugees), Brussels BE
2023: Conference presentation of artistic research at the Fine Arts Charleroi invited by photographer Kamand Razavi, Charleroi BE
2022-2023: Photographer for THE SKATEROOM gallery, Brussels BE
2022: Photographer for the Reverse Migration Journey project with the association La Tour de Babel, a trip with 25 young people to the south-east of Turkey. Supported by Erasmus+ and the B.I.J (international youth office) TURKEY
2021: Volunteering for the artistic project Migratory Traces with ASMAE association, Brussels BE
2018: Assistant to the artist Yannick Cosso for a performance with the dancers of the Marseille National Ballet (BNM), Marseille FR
2018: Assistant, realisation, actress in the film Libre Archipel by André Fortino, Frioul Islands, Marseille FR

EDUCATIONS
2022: MFA in Photography, ENSAV La Cambre with distinctions, Brussels BE
2019: Erasmus in master's degree in visual arts at the art school of U-LAVAL Quebec University, Québec CA
2018: DNA (National Diploma of Plastic Art) with distinctions, INSEAMM (Marseille National School of Fine Arts), Marseille FR

View of the studio during the creative residency at the Carrefour des Arts Foundation, 2022-2023, Brussels (BE).